iQIBLA partners with Umeox brand to forge a new model of pilgrimage
Recently, UMEOX Innovation Technology Co., Ltd. and iqibla company reached an agreement to acquire 100% equity of iqibla company, marking the first brand of iqibla Muslim smart wear has entered a new era.
UMEOX is a continuously innovative AI product technology company, headquartered in Nanshan District, Shenzhen.
Since its establishment more than ten years ago, it has deeply cultivated intelligent wearable products and their overall software and hardware solutions. It has more than 500 design achievements and more than 200 innovative inventions. Many phenomenon level original intelligent wearable products sell well overseas.
At the same time, iqibla, as a start-up brand located in Dubai, has performed well in the market in the past six months: the world's first intelligent praise ring was launched, which was praised by 300,000 users, and quickly realized the double leap of product line expansion and sales take-off; Through the United Arab Emirates headquarters, it radiates to the Middle East, Southeast Asia and other regions, and the brand influence and popularity have been greatly improved from zero to excellent
This year, Umeox and iQIBLA cooperate to increase the investment in the expansion of smart wear product line, and lay out the global Muslim smart product line by joining hands with strong forces.
At present, the two companies have initially completed the negotiation and communication about the way of cooperation, and will accelerate the pace to promote the layout of the smart wear product line. Around the pain points of Muslim consumers' pilgrimage life, we plan to launch a series of smart home products such as Muslim exclusive smart watches and Muslim children's watches.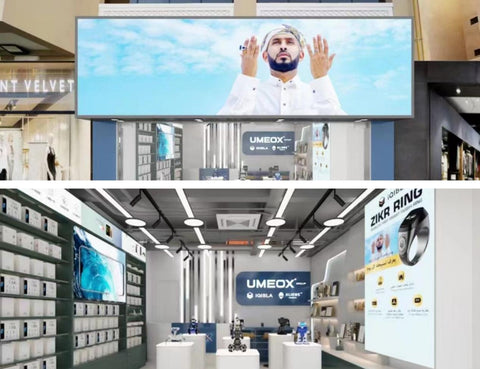 Shao Guoguang, President of Umeox, said, "In the post-epidemic era and the complicated situation of international tension, we still uphold the belief of providing a better life for our users and keep exploring new innovation points. We hope to join hands with the iQibla brand to leverage our R&D strength and rich experience in hardware and software products to better tailor smart wearable digital products for the 1.8 billion Muslims around the world."